You probably have a website. But does your site convert clients?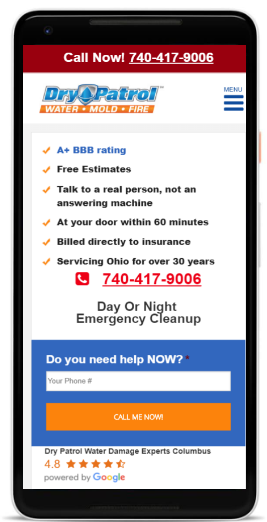 A restoration website should be the most productive member of your sales team. Why? It never sleeps. It never calls in sick. It never has child care issues. The hard truth, though, is that most restoration websites aren't very good at converting visitors into callers.
If you've tried SEO or PPC in the past and you generated traffic to your website — but customers never called — it's because the website failed to do its job. Here's what I see on most restoration websites:
The website takes too long to load
The website is designed to look best on a computer — not a phone
The website talks about what you do instead of why that customer should call you
Customer reviews aren't present, are hard to find or have to be viewed outside of the website
The phone number is broken (yes, this happens), is hard to find or isn't shown enough on each landing page
These are what kill your conversions! Unfortunately, though, I've seen thousands of restoration websites over the years that are guilty of these five things — and more. Here's some more hard truth: don't spend a dime on SEO or PPC management, don't make another social media post or print another brochure until you have a website that has proven it can convert. Why push customers into your sales environment when your sales environment is broken? You wouldn't put blowers with bad drums on a job or extract with a broken truckmount, right?
For nearly five years, United Restorers has worked with the team at (a)squaredstudio. Alex Donovan, owner of (a)squaredstudio recently set down with me for an interview about web design, conversion and what makes his company the best choice for restoration websites. You can listen to that here. But here are a few reasons why I encourage you to consider (a)squaredstudio.
Restoration Websites Should:
Consistently Convert Customers
Are Desktop, Tablet & Mobile Ready
Load In Less Than 3 Seconds
Are Fully Branded with Your Company
Are Yours. It Will Never Be Held Hostage
Why push customers into your sales environment when your sales environment is broken?
A new website costs about the same as an LGR. Think about that for a minute. In this business, we love buying new equipment. And we always justify those purchases by reminding ourselves how much money that dehu or fan or truckmount is going to make us. But here's my last nugget of hard truth: all that beautiful equipment is never going to make money sitting in your warehouse. You're responsible for putting it to work.
Restoration websites that converts is Step One in our digital advertising strategy here at United Restorers. So you're on the right track! Reach out to Alex and his team today!
Listen to my latest interview with Alex Donovan here: